Playoffs occur the week after the regular season concludes.  Our winter State Cornament and end-of-season party will be held once the season concludes.  This winter, we are excited to announce our State Cornament will take place at New Realm Brewing on Sunday, March 1, with a rain date of Saturday, March 7.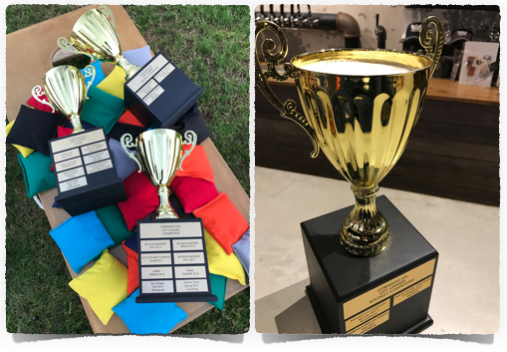 Prizes:
Our sponsors are the best!  Bring your "A" game the week of playoffs and walk away with a-maize-ing prize packs consisting of beer, swag, and gift cards from participating restaurants and our CornholeATL sponsors.

Fall 2019 Finalists:
We had a BLAST at our fall City Cornament in Downtown Woodstock sponsored by Truck & Tap and Reformation Brewery! There was great competition at all levels. We were excited to watch our players claim The Cup and raise it up! Congratulations to our City Champions and runners-up on a hard fought battle!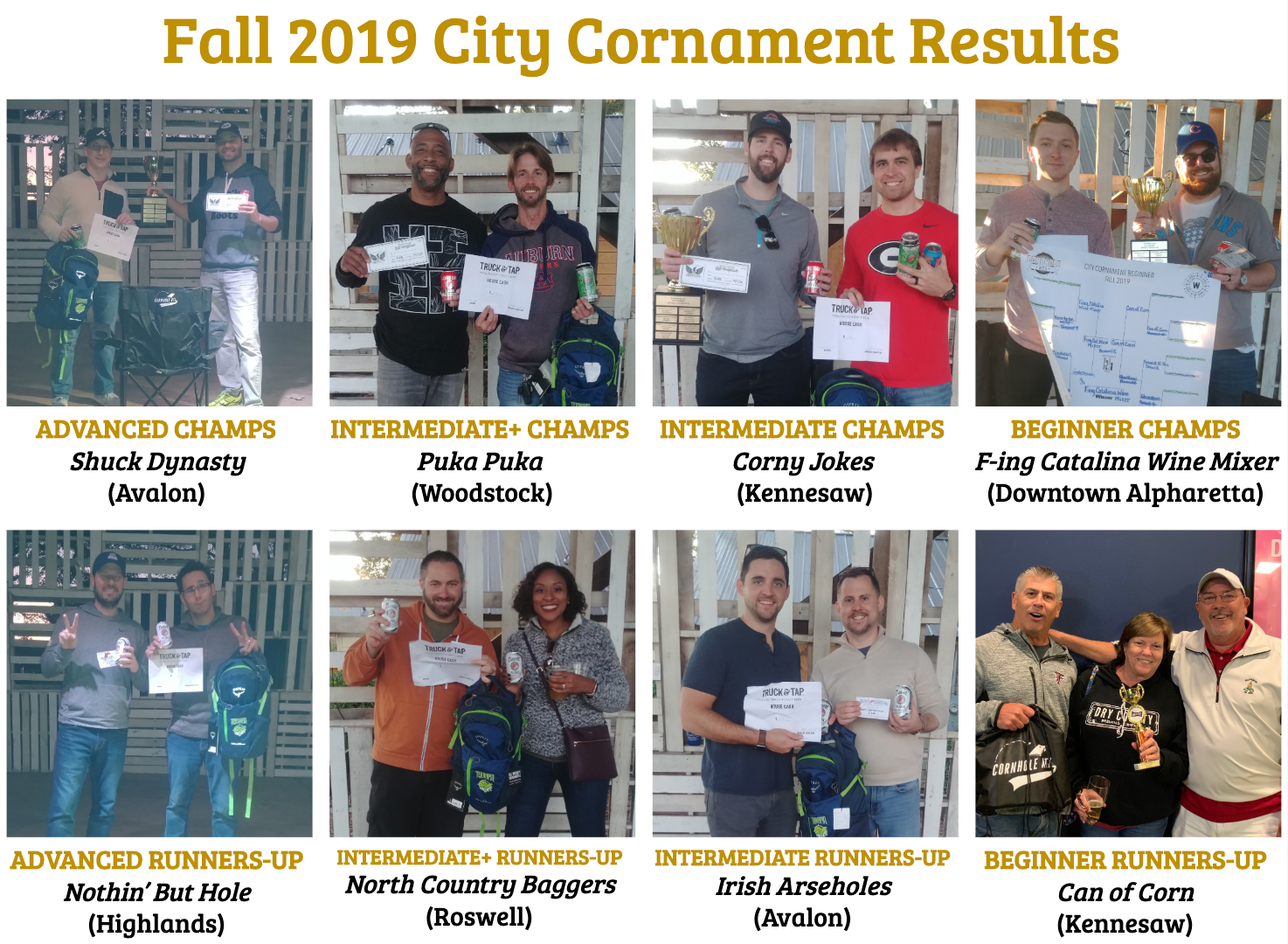 Previous Results:
SEASON
ADVANCED CHAMPS
ADVANCED 2ND
INTERMEDIATE CHAMPS
INTERMEDIATE 2ND
BEGINNER CHAMPS
BEGINNER 2ND
2019
SUMMER

Team Fun Bags
(Highlands)
Highland Holers
(Highlands)
Chairmen of the Boards
(Athens)
Four Sacks One Hole
(Smyrna)
Unicorn Flakes
(Woodstock)
Corn-Dogs
(Woodstock)

2019
SPRING


2 Sacks
(Cumming)

Bucking Bagnificent
(Cumming)

Lynch Window Tint
(LaGrange)

Hole Bangers 
(The Battery Atlanta)

CrispySalty 
(Woodstock)

Agents of the Corn


(Alpharetta: Avalon)


2019 
WINTER


Granny and the Man


(Downtown Alpharetta)


Big Blue Baggers
(Kennesaw)

Weekend Starts on Wednesday
(Downtown Alpharetta)

Pop Secret
(Roswell)

Winter is Here! 
(Roswell)

Shut Your Cornhole
(Duluth)

2018 
FALL


Corn Stars
(Cumming)

B G Baggers
(Cumming)

Cornhuskers
(Buford)

It's in the Bag
(East Atlanta)

Fire in the Hole
(Woodstock)

Beers & Bags
(Woodstock)

2018 
SUMMER


B G Baggers
(Cumming)

Kirby and Paul
(New Realm)

Nothin' Butt Hole
(Roswell)

The Other Guys
(The Battery)

Creamed Cornhole
(Roswell)

T-N-T
(Woodstock)

2018 
SPRING


Kirby and Paul
(Highlands)

Handsome Holers
(Woodstock)

Four Sacks One Hole
(Smyrna)

Shake-N-Bake
(Alpharetta)

Bags Deeper
(Kennesaw)

Get in the Hole 
(Kennesaw)

2018
WINTER


Fury
(Woodstock)

Corn Stars
(Alpharetta)

No Bueno
(Woodstock)

Holy Moly
(Highlands)

Four Bags One Hole
(Highlands)

Katy Perry Sucks
(Highlands)

2017
FALL


Beauty and the Beast 
(Woodstock)

Corn Stars
(Cumming)

The Weekend Starts on Tuesday 
(Alpharetta)

What the Actual Shuck?
(Avalon)

Holy Moly
(Highlands)

Sticky Sacks
(Cumming)