Playoffs occur the week after the regular season concludes.  Our spring City Cornament and end-of-season party location will be announced soon!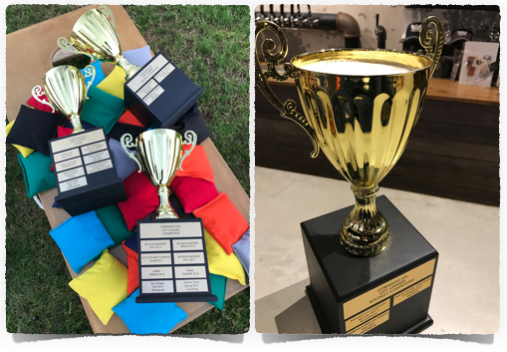 Prizes:
Our sponsors are the best!  Bring your "A" game the week of playoffs and walk away with a-maize-ing prize packs consisting of beer, swag, and gift cards from participating restaurants and our CornholeATL sponsors.

Winter 2019 Finalists:
The cold didn't stop the competition from heating up at our Winter 2019 City Cornament held at Gate City Brewing on Wednesday, March 6!  Congratulations to our City Champions who get their name on The Cup and our City Runners-up!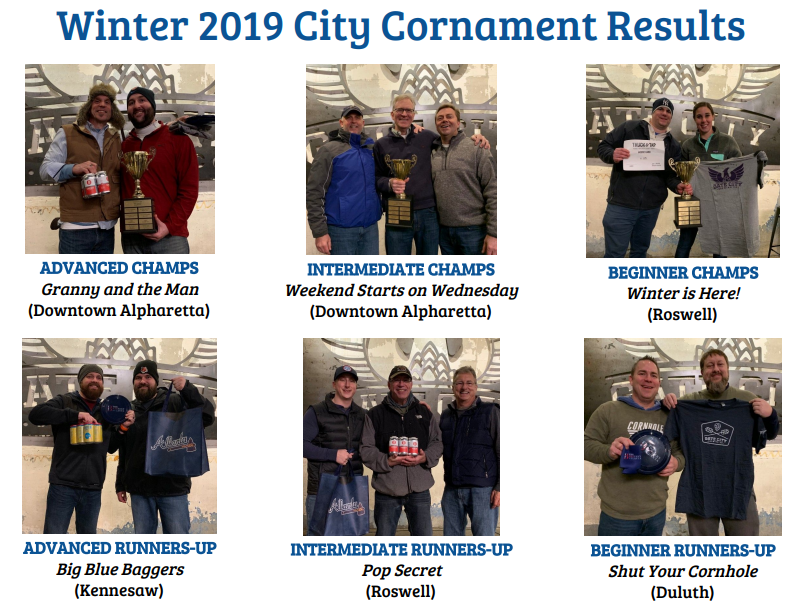 Previous Results:
SEASON
ADVANCED CHAMPS
ADVANCED 2ND
INTERMEDIATE CHAMPS
INTERMEDIATE 2ND
BEGINNER CHAMPS
BEGINNER 2ND
2018 
FALL
Corn Stars
(Cumming)
B G Baggers
(Cumming)
Cornhuskers
(Buford)
It's in the Bag
(East Atlanta)
Fire in the Hole
(Woodstock)
Beers & Bags
(Woodstock)
2018 
SUMMER
B G Baggers
(Cumming)
Kirby and Paul
(New Realm)
Nothin' Butt Hole
(Roswell)
The Other Guys
(The Battery)
Creamed Cornhole
(Roswell)
T-N-T
(Woodstock)
2018 
SPRING
Kirby and Paul
(Highlands)
Handsome Holers
(Woodstock)
Four Sacks One Hole
(Smyrna)
Shake-N-Bake
(Alpharetta)
Bags Deeper
(Kennesaw)
Get in the Hole 
(Kennesaw)
2018
WINTER
Fury
(Woodstock)
Corn Stars
(Alpharetta)
No Bueno
(Woodstock)
Holy Moly
(Highlands)
Four Bags One Hole
(Highlands)
Katy Perry Sucks
(Highlands)
2017
FALL
Beauty and the Beast 
(Woodstock)
Corn Stars
(Cumming)
The Weekend Starts on Tuesday 
(Alpharetta)
What the Actual Shuck?
(Avalon)
Holy Moly
(Highlands)
Sticky Sacks
(Cumming)